IRENE Rooms & Studios
WELCOME TO LESVOS ISLAND, GREECE
IRENE Rooms & Studios are situated right on the beach of Petra, a picturesque town at the north tip of Lesvos island, Greece.
Petra town is famous for its church of Virgin Mary at the top of an impressive 40 metres high rock that dominates the centre of the village and its long sandy beach, one of the of most beautiful in the Aegean Sea.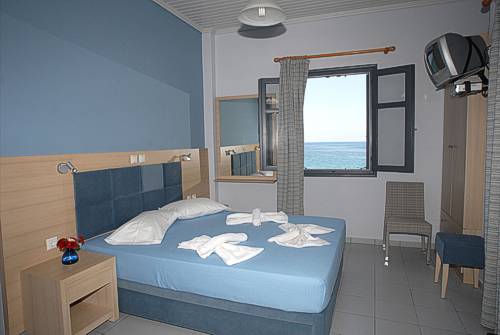 IRENE Rooms & Studios that have been fully renovated in 2011 (Eco colours have been used all over the accommodation for its painting) are divided only by the beach road from the crystal clear waters of Petra Bay. They are conveniently located near the shopping area of the village with restaurants, cafes, various shops, mini markets, pharmacies, medical office, ATMs and more.
IRENE Rooms & Studios, right on the sea, with fantastic views of the the Petra Bay and the islets of Ai Giorgis, Mikronisi, Glaronisi and Mirmigi are the ideal place for you to relax, rest and recharge your batteries for the rest of the year.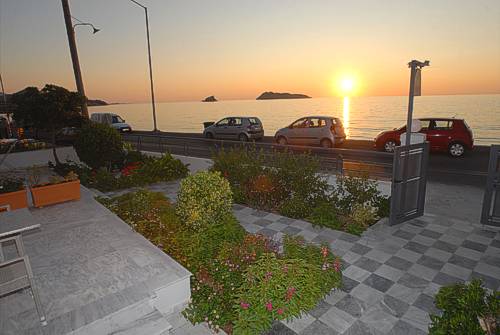 Their facilities include:
@ Air conditioning (two-cycle)
@ Kitchen appliance (2 cooking elements - not included in the Rooms' Facilities)
@ Refrigerator
@ Coffee Kettle
@ Hot water boiler
@ WC
@ Satellite TV
@ Internet
@ Hair Dryer
The residence is cleaned daily while clean sheets and towels are changed twice a week.
Distances:
@ From the sea 6m & and the organized sand beach 150m
@ From the center of Petra, 50m
@ From Anaxos Beach, 4Km
@ From Molivos, 5Km
@ From Eftalou Beach & Therapeutic Baths, 9Km
@ From Mytilene, 55Km
@ From the Airport, 60Km
Next to the accommodation, right on the Beach Road, there is a Bus stop of the local bus line of Μolivos-Eftalou-Anaxos (10-12 times daily) & of that of Petra-Mytilene (3-4 times daily).
If you are looking for all the atmosphere of the REAL GREECE in an authentic island village, look no further than IRENE Rooms & Studios!
To make a reservation with us just follow the LINK...